THINK IT
By
Ashwani Agarwal
MBA(IT) 2007-09
Indian Institute of Information Technology, Allahabad
YAUBA
: THE NEW INDIAN SEARCH ENGINE WITH PRIVACY PROTECT
Whenever we think about World Wide Web search, the first thing that comes to our mind is Google search engine. In fact in midst all those assignments and projects or for that matter any kind of data we need, Google stands out as the much needed helpline. A number of search engines have been launched in the past years but not many have become as popular as Google.
But gone were the days when Google was the only search engine, to break its monopoly a new experimental Indian search engine YAUBA has been launched, with many special features such as protecting privacy of users.
Yauba is still in the beta stage or in the early stage. It has been launched after a research of 25 years and expected to stay a long-long time to compete with Google.
Its main features are:-
The World's First Privacy Safe Search Engine – Yauba does not keep any personally identifiable information. It allows users to search internet keeping their privacy and anonymity intact. It is safe from cookies, safe from recording private information and safe from transferring your personal information to third party websites.
Search Intelligently – Get information based on the context. In their own words, Yauba can actually "understand" the difference between concepts such as Java the island, Java the coffee and Java the programming language (and much more).
Search Effortlessly – If you know how to click a mouse, you will become an expert in Internet search. How? Yauba has the option to categorize your search into 12 different directions. Be it Internet sites, be it News sites, be it Blogs etc., Yauba is there for you.
So next time you need to search data go for www.yauba.com. Believe me. It's as efficient and as exhaustive as google.com.
Link:- www.yauba.com
DELL'S ADAMO
:
WORLD'S SLIMMEST LAPTOP
Dell intends to sensitize you with its latest creation, the Adamo, which they claim to be the world's slimmest laptop. Well it stands at 1.64cm.when closed!
The complete specifications of the Adamo place it at 33cm wide, 24.1cm deep and the thickness which gives it the ultra-slim appearance at 1.65cm. Adamo becomes the slimmest laptop by beating competitors MacBook Air of Apple and ThinkPad X300 by Lenovo. The Adamo includes an edge-to-edge 13.4" 16:9 HD glass display with a backlit keyboard and will be available in two models of Onyx and Pearl. With a Flash memory instead of a regular hard drive, the basic Adamo will have a 1.2GHz Intel Core2Duo processor, Wireless N, Bluetooth 2.1, 2GB memory, 128GB state drive, 2 USB ports, a USB/eSATA port and a display port. For those wishing to spend even more extravagantly, Dell offers external storage options of 250GB or 500GB, external DVD+/-RW or Blu-ray disc drive, 8GB USB drive and more.
Beautiful but expensive (starting price$1.999) and devoid of the greatest specs, it is the epitome of the luxury laptop.
<![if !word & !ppt & !excel & !vml]>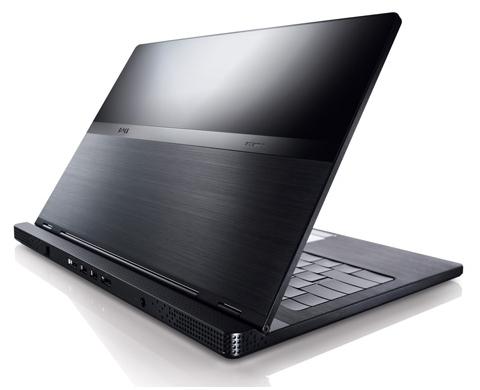 <![endif]>
Link:-www.dell.com
GOOGLE LATITUDE

:

SOCIAL NETWORKING MEETS MAP

Just in case you want to know the precise movement of your friend –every step, every turn, every location- Google latitude is for you. Google has launched latitude that can run on your system and mobiles. Link Google Maps Latitude up with Twitter and Face book and you'll be able to tell what your friends are up to.

Latitude is a new feature for Google Maps on your mobile device. It's also an iGoogle gadget on your computer. Once you've opted in to Latitude, you can see the approximate location of your friends and loved ones who have decided to share their location with you. So now you can do things like see if your spouse is stuck in traffic on the way home from work, notice that a buddy is in town for the weekend, or take comfort in knowing that a loved one's flight landed safely, despite bad weather.

And with Latitude, not only can you see your friends' locations on a map, but you can also be in touch directly via SMS, Google Talk, Gmail, or by updating your status message; you can even upload a new profile photo on the fly. It's a fun way to feel close to the people you care about.

Fun aside; to recognize the sensitivity of location data, Google has built fine-grained privacy controls right into the application. Everything about Latitude is opt-in. You not only control exactly who gets to see your location, but you also decide the location that they see. Since you may not want to share the same information with everyone, Latitude lets you change the settings on a friend-by-friend basis. Everything is under your control and, of course, you can sign out of Latitude at any time.

Link:-www.google.com/latitude

<![if !vml]>