Corporate Entrepreneurship
Malini Pande
Indian Institute of Management, Kozhikode
Email: malinip08@iimk.ac.in
In the world of rapidly changing business dynamics change is the only certainty, corporations are hard pressed to align themselves to changing customer demands. New and different forces shaping the global competitive landscape are:
• Rapid advancements and changes in technology
• The changed business paradigm bought by World Wide Web
• Opening of global markets
• And importantly, increased success of entrepreneur ventures through out the world
With so much of uncertainty in the marketplace, the leadership role is no more limited to the top management. Corporates are increasingly looking to the possibility of innovation from rank and file of the organization. More so the established organizations under their own weight of systems, processes and bureaucracy look for innovation and speedy implementation of ideas which have built themselves in not so distant past. Corporate Entrepreneurship has thus emerged as an option increasingly acknowledged world over.
The concept is popular with varied interpretation and terminologies. For the simplicity of arguments we have adopted the following definition:
Corporate entrepreneurship refers to "the process of creating new business within established firms to improve organizational profitability and enhance a firm's competitive position or the strategic renewal of existing business", Zahra (1991).
There is limited research available on what it takes for corporations to be successful corporate entrepreneurs; we lack systematic/empirical evidence on the exact set of parameters required. More so there can be no copy book solution for corporations operating in different industries/sectors. However, on a broad level we can differentiate the factors as intrinsic/extrinsic to the corporations and try to asses how a corporation can orient itself and the employees to percolate the entrepreneurship seed throughout.
The industry scenario, competition, technological development, customers and legal/regulatory framework encompasses the extrinsic environment. These environment factors can encourage or inhibit the entrepreneurial nature/spirit of the firm.
The continuous demand from customer for better products/services initiate new ventures whereas the conservativeness on the part of customers to accept new outcomes slows down the firms entrepreneurial ventures, more so in case of disruptive technologies which threatens to annihilate the existing product line.
Intense competition spurs new ventures, the threat of new products and/or new entrants keep firms on their tows and in continuous look out for new ideas and more importantly their execution.
Regulatory environment especially in terms of intellectual property rights protection, bureaucracy and access to markets defines the role of state. In a progressive environment state has every incentive to lower the entry barrier and make the overall parameters of economy very competitive.
The industry facilitates the entrepreneurial spirit of the firms by helping set industry standards; this also ensures that the customers are not wary of adapting new developments in anticipation of emergence of such standards. Successful corporate entrepreneurs either set such industry standards or readily accept the emerging ones.
The economic environment encompassing the firm plays its own important role; in adverse scenarios the firm folds up it horizons and limits its focus to managing its bottom line thus hindering internal creativity.
How suitably the firm is placed to exploit the opportunities or face the challenges from external environment depends on the state of its internal affairs; namely the management, culture, encouragement to creativity and co-sharing of profits and Intellectual Property rights considerations.
The management style is the single most critical element for entrepreneurial development within the firm. The management ability to promote an environment which appreciates creativity, allow employees to take ownership, generously rewards successful ventures and does not penalize employees for mistakes is the essential building block
The stage of business (growing, mature or declining) affects the way corporates look at innovation. Though corporate entrepreneurship should be the part of organization strategy but under circumstances of business decline or bottom line erosion the firm looks out for innovative ways to stay competitive. Also the firm's position vis-à-vis other players defines its investment and innovation regime.
Corporates which keep a track of changing market trend and react accordingly are better poised to develop internal entrepreneurship as they consistently align themselves to markets and look for sustainable competitive advantage.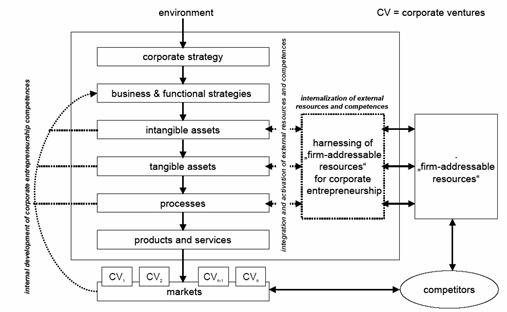 Sanchez/Heene model of Corporate Venturing
There is an ongoing debate on whether corporate entrepreneurship is a top-down or bottom-up approach. Each view has its merits, but closely analyzing the issue at hand we can deduce that the success formula calls for a delicate mix of the two approaches.
Every corporate need a symbiotic existence of both philosophies, though it's the top-down approach top management which initiates the process and bottom-up approach which sustains it. The top management acts as facilitator whereas employees play the role of idea creator and executioner.
It is the role of senior management to foster an environment which appreciates creativity, let employees experiment and does not narrow down employees to narrow view of limited job scope and more importantly accept that mistakes/failure are inherent to any such venture.
Success Stories
The success stories of corporate entrepreneurship are predominantly based on high-technology industry; where barriers are less rigid, business dimensions are fast changing and have traditionally been the privy of individual efforts rather than old economy industries which calls for huge capital outlay and collective effort.
Our analysis of extrinsic/intrinsic factors gels well with the Technology Industry which is bound by rapid innovation, unpredictability, shorter product life cycles and intense competition. The state has universally at best played the part of facilitator in its development.
Though predominant, technology industry is not the only one to take advantage of corporate entrepreneurship.
One name that instantaneously comes to the mind as the base of many corporate entrepreneurship studies is 3M. As an organization, 3M has a standard policy to allow all employees to work on developing their own business ideas at least 15 percent of their work-time. 3M and its employees have actually reaped great benefits; with great success story about development of Post-It-Notes which was pioneered by an employee (he wanted something that wouldn't fall out to mark pages in his hymn book at church). But is the 3M model of innovation reproducible across other corporation is a matter of
Corporates having specialized skills/competencies in certain domains can offer such services to other firms in the market. For example a Cadbury Schweppes subsidiary (Mott) realizing its strength in back office processing successfully launched such services for other firms in the market.
In Indian context , at Wipro Technologies (NYSE:WIT, Among India's top 3 IT services company) initiated a unique program. With global economic downturn and reduced IT spending by its major Fortune 500 clients in year 2001, Wipro had a sizeable chunk of IT professionals who were not being assigned to client projects. Instead of resorting to layoffs it invited employees to submit their business ideas in technology domain which could be implemented with-in broad areas of its operation. A committee of technology, business and finance professionals goes through all such proposals and employees are asked to defend their ideas. All accepted proposals are initiated within the organization with mutually decided timelines and revenue sharing. More so, employees are educated on the importance of Intellectual Property and encouraged to file patents with joint ownership. This helped Wipro tap the entrepreneurial spirit of employees as well as effectively utilize its vast pool of technical talent.
In another instance, the travel support team (it handles large amount of foreign travel for the employees) analyzed the amount of business travel request it was channeling to the travel agencies and figured that with same margins it can successfully launch a travel service of its own which can handle travel requirement (official/personal) for all Wipro group employees.
The idea of entrepreneurship exists in some form across all firms, in fact sales team works out as independent entrepreneurs under the organization umbrella, selling the products/services for a commission.
To institutionalize entrepreneurship across the width of the organization calls for sustained efforts and strategic focus of top management. First and foremost, the corporate need to foster a culture of creativity and innovation, encourage employees to define their own career paths and develop intra company competition as is experienced by organization in real market place.
However great an idea be, it is the successful execution that bears the fruit. Whenever evaluating an entrepreneurial idea the organization should always evaluate it with reference to its internal competence (be it systems, processes or human capital) and
There is always a debate on the amount of handholding and control corporate should have on the new venture. An excessive control brings in bureaucracy and politics whereas an absence of it makes goal realization rather difficult a task. Though the freedom to experiment and control is important for the success of the venture, the sponsor (Organization) should make the teams accountable for ensuring that projects stay on track and goals are met. The sponsor should focus on the overall targets leaving the execution and transactional business for the entrepreneurs.
A fair policy on intellectual property (IP) rights protection and co-ownership of patents develops a reassuring environment where employees trust the organization and do not have insecurity about the IP ownership. Similarly a fair and transparent award system to adequately compensate the employees for their contribution is a pre-requisite.
Any entrepreneurial venture has an element of risk so however strong the business case be, things can always go wrong. The organizational culture of promoting creativity should also carry the message that mistakes will not be penalized. Jack Welch supposedly promoted a manager two levels despite having failed in his venture, affirming faith in his talent.
The organization should make the entrepreneur invest something significant into the venture thus raising ownership by all involved stakeholders. The venture should have its own accounting books and should be treated as a profit centre and not as a cost centre.
More and more corporates today see Entrepreneurship as the new mantra to create value for the stakeholders, but its successful implementation is fraught with considerable risk.
Most large corporates work by setting the systems and processes in place with clearly defined roles & responsibilities for their employees. This actually develops a risk-averse environment which in turns kills the creativity and innovation. Developing a special group outside the purview of regular bureaucracy but within the overall structure of the organization is a difficult task in itself.
Usually the inertia to change is too much for a corporate to do a turnaround and bring in a culture of innovation. Especially, employees in upper middle management, who have almost reached the top, do not want any change in status quo. These employees are actually in position to make the maximum impact as they are the channel between top management and the entrepreneurs. It is usually the top management or the young creative employees are most open to embrace the change.
People in Research & Development are more focused on innovation & technology breakthrough; sometimes they may have little regard to the alignment of their interests with the organizational goals. The organization has to maintain a delicate balance between business interests and employee creativity.
Conclusion
The Corporate entrepreneurship venture of any corporate is dependent on active elements of it extrinsic/intrinsic environment.
For a corporate to succeed it need to clearly articulate its expectations instead from simply joining the fad. It is not a quick-fix solution to the transactional problems but a methodology calling for significant resources and commitment. The corporation has to keep in mind that the new venture is unproven and there is always a risk of failure. Entrepreneurship is not for everyone and there is no single success mantra. What has worked out well for 3M is not something every organization can emulate.
But for those who figure it out and succeed, it can turn out to be a source of sustainable competitive advantage!!!
References:
Sanchez, R., Heene, A. Thomas, H. (1996): Introduction. Towards the Theory and
Practice of Competence-based Competition, in: Sanchez, R., Heene, A. Thomas,
H. (Eds.): Dynamics of Competence-based Competition, Oxford, pp. 1 – 35
ZAHRA, Shaker (1991): "Predictors and financial outcomes of corporate entrepreneurship: An explorative study". Journal of Business Venturing, 6, 259-285.
Dr. Joao Ferreira: "Corporate Entrepreneurship: a Strategic and Structural Perspective". International Council for Small Business, 47th World Conference.
Neal E.Thornberry: "Corporate Entrepreneurship: Antidote or Oxymoron". European Journal of Management, 2001.
Web Resources
www.em-lyon.com/WorkingPapers/2002-08.pdf
www.marketingprofs.com/4/robb1.asp