October - December 2006 Vol 2 Issue 11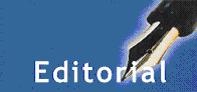 eaders, the great management guru Peter Drucker once said: "Knowledge has to be improved, challenged, and increased constantly, or it vanishes." And B'cognizance tries to do just that: A cycle that repeats itself every quarter, churning out articles from gems in the fields of Information technology, Marketing and Finance.

It gives me great pleasure to launch the year end issue of our efforts. Since the launch of our magazine our vision was to strive to meet the requirements of the management students of India and abroad. With the response we are getting from the student community, faculty and industry both from within India and abroad, we feel that steps were taken in the right direction. We hope that we will continue to enrich your knowledge in the future as well.

The current issue of B'Cognizance brings in a wide array of articles ranging from the Role of an MBA in the IT industry to Search for Perfection. Mr Azahar Machwe And Sorabh Kalra of University of the West of England, UK, highlight the issues on Search for Perfection.Prof Meenakshi Handa,Faculty member University school of Management Studies,IP University,Delhi talks about Green Marketing : Drivers & Challenges. Mr Amit Agarwal deals upon playing fortune-teller- a POV on how corporations should build their USP.

Once again I would say what I have always maintained that the popularity of a publication can best be gauged by the participation of its readers and this issue once again stands out for itself. Some of the articles that have come from the best B & T ' schools of India are: Taking Indian IT Conglomerate Global. By: Rahul Budhwar,FMS and Megha Goyal ,IIFT,Moblie Phone Viruses By : Manish Srivatava.

I hope you enjoy reading this issue of B'Cognizance as much as we have enjoyed putting it together.

Wish You Happy Reading!! ……from the Chief Editor's Desk.