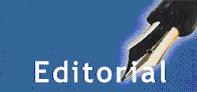 "Variety's the very spice of life, That gives it all its flavor."
– William Cowper
Variety in our lives keeps it from getting boring and monotonous. It's what makes us get up in the morning and gear up for a new day. "Something New" is what people are consistently searching for.
Keeping this in mind, we bring forth the Apr-Jun'07 issue of B'Cognizance. This issue dwells on such diverse topics as - The Banking Sector, Online Security, Engineering and Design Services, Indian Economy, Micro Credit, Addiction to Brands, Strategic Imperatives in Indian Organizations, to name a few.
The magazine also plays host to a varied range of contributors. It boasts of contributions from Dr. Syed Ahsan Jamil, Assistant Director, IPM, Lucknow and Kiran Taliyawala, HR Executive, Surlin Solutions. We also have contribution from Rahul Varshney of IIT Kanpur , Anil Juyal of Apeejay School of Management and other writers.
Some of the contributors from the IIIT-A fraternity are - Manish Srivastava giving us an insight into the "Commodity Exchange Market in India", Saurabh Awasthi telling us about "The Right to Information" and Ishaan Prasad telling us about a growing "Addiction to Brands".
Test yourself through our casecading and volteface sections. If you are feeling the heat of the serious stuff, Jest Corner will be an invigorating stop.
Wish you Happy Reading!!!
From the Chief Editor's Desk…