BPO to KPO- the Indian Journey
By Mustafa Merchant , Arunachalam Sriniwas , IIM Kozhikode
INTRODUCTION
Post the era of BPO proliferation, KPO promises to provide the next surge of growth to the service sector in India . The Indian KPO industry is expected to employ more than 250,000 KPO professionals by 2010 compared with the current figure of 25,000 employees. India will capture more than 70 percent of the KPO sector by 2010, up from 26% in 2003.
Many of the firms engaged in providing BPO services are now migrating to KPO services. Though the two industries may look similar, there is a significant difference in terms of the service offerings. KPO is much higher up in the value chain and Indian firms will require specialized skills and a unique business model to be successful in this arena.
COUNTRY COMPARISION
The following table provides a comparison of India vs. China and Ireland as outsourcing bases
India

Ireland

China

Size

Size of offshore IT and BPO industry is around $17.3 billion employing around 695,000 professionals.

Size of the offshore industry is around $6.7 billion with more than 750 companies . Employs 60,000 professionals.

Industry size is around $7 billion employing 200,000 professionals.

Cost

Has been able to get huge business because of its low cost. But rising wages and high turnover are eroding the cost advantage.

Average salary $23,000-34,000/year. Not much cost arbitrage.

China has significant low cost advantages.

Infrastructure

Poor roads, bad traffic management make India unattractive.

Its Infrastructure is of high quality

Rapidly improving.

Talent pool

Large pool of English speaking and computer literate manpower which is growing rapidly.

Abundance of educated professionals – doctors, lawyers, engineers, finance professionals, CAs and PhDs

Has a small but talented labor pool.

Workforce familiarized with niche software services and product development.

Huge population ensures a great number of graduates every year

But only few are capable of working successfully in the offshore services companies.

Lack of English knowledge and exposure to Western business culture.

Main Advantage

Indian vendors have internationally accepted quality standards and processes. A huge talent pool and low cost are the main drivers.

Workforce is proficient in English and has Cultural compatibility with the west.

Capable of providing high-end KPO work.

Huge population and low cost. Can get bigger share of the Japanese and Korean markets due to similarity in lifestyle and culture

Major Drawbacks

Lack of infrastructure

High attrition rates prevalent

High rates of emigration among graduates

Irish companies are not CMM certified like their Indian counterparts.

Lack breadth in offerings

China 's strict regulations and trade policy hamper offshore service development.

Majority of the population does not speak English
India clearly has the first mover advantage. In the time other countries ramp up their facilities and gain expertise to get on par with India , Indian firms can move up the value chain to ensure continuous growth in the long run.
INDIA AS A KPO DESTINATION
Let us analyze India 's attractiveness as a KPO Destination using Porter's Diamond Model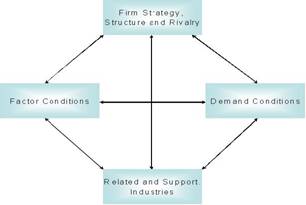 • Factor Conditions
• Human resources
India has a highly talented workforce. There is a large pool of English speaking and computer literate manpower. There are many qualified professionals including engineers, doctors, finance graduates, CAs and lawyers. More and more professionals are choosing the outsourcing industry as a career option because the pay is more lucrative compared to traditional economy jobs and the growth rate is much faster.
The following statistics given by KM Institute highlights India 's human resource strength:
• World's largest number of scientific and technological personnel after USA
• 220 universities, 10000 colleges, 330,000 teachers and 3,000,000 Graduates every year.
• Annual output of 200,000 engineering graduates from government and private-run colleges.
The salaries paid to Indian professionals though rapidly increasing are still substantially lower than those earned by professionals with equivalent degrees in Western countries. For example- The compensation for a chip design engineer with a master's degree and five years' experience is about $7,000 a month in the US whereas an engineer with the same qualification and experience in India gets about $1,200 a month.
• Physical infrastructure
• India 's infrastructure is the country's main problem.
• Poor roads and connectivity do not make it an instant choice for businesses.
• Information infrastructure
• With improved communications systems in place distance is no longer a disadvantage to Indian companies serving clients around the globe.
• Indian firms can share information with their clients in various countries on a real time basis through Internet and Audio/ Video Conferencing.
• Firms here have adapted their business processes to gain advantage from these technology breakthroughs.
• India has good intellectual property rights and excellent data security procedures.
• Scientific and technological infrastructure
• Many MNCs have set up R&D centers here. About 2000 recognized R&D institutes operate in India .
• India has the world's largest number of scientific/ technological training centers after the USA .
Demand Conditions:
• With a booming economy, Indian manufacturing and services companies like their counterparts abroad have adapted IT to improve their capabilities. They are looking to outsource a lot of their high-end work to KPO vendors. These customers are sophisticated and demanding in their needs.
• The demand from different Industry segments is expected to rise rapidly as global players feel confident about outsourcing their high-end work to India . The table below gives the amount of work that is expected to be outsourced in different verticals
| | |
| --- | --- |
| Industry Vertical | Forecasted Demand by 2010 |
| Equity research | US$ 400 million |
| Legal Outsourcing | US$ 300 million |
| Market Research | US$ 400 million |
| Data Analytics | US$ 5 billion |
• Related and supporting industries:
• India has around 3,000 software-services companies. These vendors are leaders in IT services and BPO sector, which leverages India 's KPO sector.
• India has 5 cities that act as information technology clusters where thousands of Indian and multinational service providers are operating at cutting edge technologies.
• The domestic Financial Services Industry being developed, there is domain expertise in the areas of Financial Services, which forms a major chunk of the KPO Business.
• The huge base of Doctors, pharmacy graduates and engineers is boosting the domain expertise that firms need in various verticals.
• Firm strategy, structure and rivalry:
• India has the highest number of CMM-certified companies in the world. Indian vendors have internationally accepted quality standards and processes. Many of them have garnered international recognition and a global clientele.
• With global giants like CSC, Accenture and EDS entering the Indian market, competition has increased and margins have reduced. The increasing wages threaten to nullify India 's low cost advantage.
• The loss of skilled workforce due to high attrition increases training costs and reduces the competitive advantage for Indian firms.
WAY AHEAD FOR INDIAN FIRMS
• Enhancing Manpower Quality
Indian outsourcing vendors must enter into agreements with Indian universities to offer dedicated courses aligned across industry verticals, foreign language and cultural training. O n the job training and emphasis on continuous learning will improve the quality of workforce and help reduce the attrition rates.
• Understanding the Market
The firms should understand the market dynamics of their customers' home countries. This will result in more work transferred to India particularly in areas of Marketing Research and Analytics.
• Building domain expertise
Though India has no dearth of qualified professionals, they must be trained in specific verticals to become experts in that particular domain. Domain expertise for high end analysis can be boosted by the intake of lateral recruits with high qualifications and relevant experience.
• Quality Standards
KPOs can achieve high level of quality by developing process models and frameworks and continuously monitoring customer satisfaction through quantifiable metrics.
• Branding
Even though most of the Indian KPOs provide world class offerings, they are not big brands globally as an IBM or an Accenture. Sufficient effort needs to go into creating the brand image abroad that will help reinforce the superior quality image of Indian vendors.
CONCLUSION
The Chinese government is undertaking a huge drive to educate its massive population in English. Philippines is providing infrastructure and financial support to the firms setting up Outsourcing facilities in their country. So the cost advantage that India has will not be a differentiator in the long run as other countries propose to offer low cost services. Therefore there is a need for Indian firms to make a transition to higher end work. The Indian KPO industry needs to scale greater heights by leveraging on domain knowledge and augmenting human resources. Another challenge is to attract and retain a multi-lingual workforce spread across various locations across the globe.
The Indian government has realized that the outsourcing industry can provide jobs to thousand of educated youth and is supporting the industry. It has announced various tax holidays for players and work is on to improve the infrastructure facilities which are the major barriers to growth.
Simultaneously the firms need to evolve their business models to gain a larger chunk of the global KPO business. Apart from location based cost arbitrage, factors such as domain expertise, risk mitigation techniques and effective marketing will help KPO companies to create a competitive advantage.
REFERENCES
http://bpo.starmatrimonials.com/kpo.php: KPO - Knowledge Process Outsourcing
http://www.russoft.org/docs/?doc=976 : Russian IT outsourcers targeting U.S
http://www.cio.com/offshoremap/ A buyer's guide to offshore outsourcing
http://www.kminstitute.org/index.php?page=blank&subpage=CheckitOut_Archive : Knowledge Process Outsourcing: Why all the hype?
http://www.rediff.com/money/2004/dec/31guest2.htm : KPO: The next big opportunity
http://news.com.com/Can+China+compete+in+IT+services/2030-1069_3-5520233.html Can China compete in IT services?
AUTHOR PROFILES
Mustafa Merchant

Education: B.E. (Electronics) - TSEC, Mumbai University

Work Experience: 23 months

Last Employer: Infosys Technologies

Summer Internship: Accenture

Majors: Systems, Marketing

Arunachalam Sriniwas

Education: B.E. (Production) - NIT, Trichy

Work Experience: 04 months

Last Employer: ICICI bank

Summer Internship: Mahindra&Mahindra

Majors: Systems, Finance