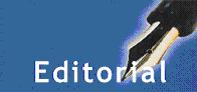 ďDo you mean to say that Tatas propose to make steel rails to British Specifications ? Why, I will undertake to eat every pound of steel rail they succeed in making.Ē That was Sir Frederick Upcott, Chairman, Board of Indian Railways, in 1907 when Tatas proposed to make steel. Now, a 100 years later, Tata Steel has taken over Corus, the erstwhile British Steel and one of the icons of Her Majestyís Empire.
Tata Steel has come a long way, and so has India. Itís not just the Steel sector, with Mittal Steel leading the way, but also the IT sector where Indian firms hold sway. While globally, IT firms witnessed an overall drop in new outsourcing contracts in 2006, Indian companies -- such as Infosys, TCS and Wipro bucked the trend with a sharp jump of over 14 times in their market share in the past four years.
Itís on this high note that we bring to you our latest edition of BíCognizance. The magazine covers such diverse topics as Ė E- Commerce, Microfinance, Teleportation, Agriculture based retailing, Magnetic Organic Molecules, Cryopreservation, IT OFFSHORING, Ethics of NanoTechnology, CSR, and lots more.
We are glad to have inputs from people of different back-grounds, giving the magazine itís diverse and far-reaching appeal. Iím glad to say that the magazine has received contributions from both the industry and academia.
I take this opportunity to thank all our contributors for providing us their specialized knowledge in the various areas. We look forward to further contributions and feedback from your side for our next issue.
Happy Reading!!!
from the Editor's Desk...