Gadgets of the Year
By
Ashwani Agarwal (MBA-IT 2 nd year)
& Praveer Neeraj (MBA-IT 1st year)
Indian Institute of Information Technology, Allahabad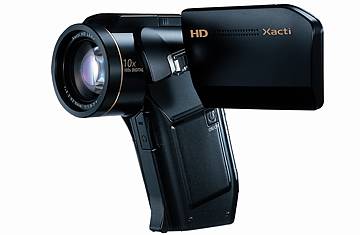 Sanyo Xacti HD1010
Sanyo's sleek-as-gun Xacti is a digital camera and video camera in one. Rather than carrying around separate, bulky gadgets, you can take 4-megapixel stills and 1080i or 1080p high-definition video with the pocket-sized Xacti. Its slim design allows you to hold the camera comfortably in one hand; the buttons are streamlined and simple to operate for switching quickly between still picture and video. The Xacti's stand-by mode makes it easy to start filming in an instant. The camera uses cheap, small SD cards, so you don't have to cart around a stack of tapes or worry that you'll run out of internal memory.
HD 1080p (30fps) MPEG-4, AVC/H.264 Digital Video
4 Megapixel Still Images, CMOS
2.7" LCD Display
10x Optical Zoom
Video and Still Image Stabilization
Sequential Shooting - 7 Frames Per Second
Face Detection "Still Images" - Up to 12 Faces
Face Chaser "Video" - Up to 12 Faces
High Quality Audio Recording (AAC)
Wind Roar & Red Eye Reduction
Web Cam Function
PictBridge Compatible
USB 2.0 and S-Video Output
Built-in, Pop-up Flash
SDHC Flash Memory Compatible (up to 1 hour video recording per GB)
Price: $799 list
For more information log on to: http://www.sanyodigital.com/hd1010.aspx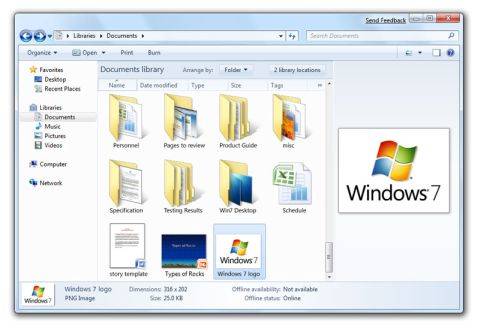 WINDOWS 7
Way back 23 years, on 20 th November 1985, few would have imagined the magnitude of strides Microsoft has managed due to its innovative strategies. Then it was the launch of Windows 1.0. Through a succession of versions like Windows 2.0, 3.03, Windows 95, 98, ME, XP and Vista, Microsoft has successfully created a monopolistic niche into the markets of Operating Systems. The concerns for security, innovation and end user comfort have kept it gyrating with business. Finally it has reached today to launch a new version of Windows altogether. Now it is the awaited launch of Windows 7.
Windows 7 is, by many, being considered to be the successor of Windows Vista. Yet there are many who term it as anti-Vista. First is for the reason that Windows 7 has retained many of the GUIs and extended features of Windows Vista. While it is being viewed as an anti-Vista for the obvious reason that within a short span of time (from January 2007 to October 2008), Vista is being replaced. Both of these views can be left to the readers while discussing the features of Windows 7.
Features of Windows 7
Windows live mail (an upgraded version of Outlook Express) is integrated into the Microsoft's free Windows Live Essentials.
A new font is also an additional feature (Gabriola)
Word pad supports Office Open XML and ODF
Introduction of Device Stage will help hardware developers to put all device information into a single window. It will display information on connected devices such as battery charge, available storage space, the time and date of the last sync, links to online manuals, and other features unique to the device that is connected.
Windows 7 also has an improved User Account Control which will allow users to select four different levels of notifications.
It sports multi-touch capabilities, including a virtual piano program, a mapping and directions program and a touch-aware version of Paint.
According to Bill Gates, Windows 7 is "a big step forward" for speech technology and handwriting recognition.
Boot preferences
Extended touchpad (tablet PC) in Paint and Windows
Extended User interface
Task bar
Improved and extended Virtual Hard disks
Extended Boot Performance and options
Jump List: Windows 7 icons have Jump List which will enable users to jump to the recent documents.For example, a Microsoft Word jump list will display the recent documents opened. Internet Explorer's jump bar will display recent history of websites visited!
Taskbar: The new "superbar" will allow users to view the window before they click it. Pinned applications and Enhanced Preview Pane. Improved kernel featured for all techno guys.
Release : 2009
Developer: Microsoft
License: Microsoft EULA
Kernel type: Hybrid kernel
Source model: Closed source
Preview version: 6.1.680 28 October 2008
For more details on Windows 7, please visit the following sites and blogs:
PEEK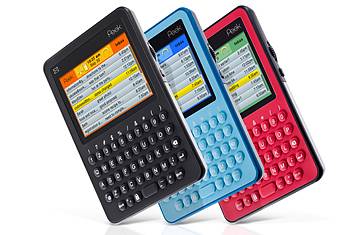 If the BlackBerry is too techie or pricey for you, check out the Peek. It does one thing and one thing only: e-mail. This slender little device gives you BlackBerry-like portable access to e-mail (it's not a phone, organizer or anything else), but without the hefty fees; monthly service costs about $20 for unlimited access to your messages. The Peek doesn't work with corporate e-mail yet, so for now, it's primarily for Web-based mail. Still, for anyone who wants to keep in touch when they're away from a computer, it's a smart, handy tool.

Price: $99.95
For more information log on to: http://www.getpeek.com/learn.htm
We won't stop here! That's our promise! We would be coming up with latest information around the nook in THINK IT. What we need is more and more enthusiasm from our readers……… Do write to us and wait for surprises in the next edition…..